Skilled New Born
Nursing
At Twinkle, we are enriched with a team of nannies who specialize in neonatal care.
Enjoy unlimited support through a vast knowledge of newborn care basics for adequate infant care at home. The tender bodies of newborns deserve a more delicate touch, snuggle, and comprehensive care from the best hands.
From only a few days old to 6 month-old babies, we have all the gentleness and daintiness to provide newborn help for your special one. You can feel the love in every tender snuggle, soft rock, and gentle feeding we administer to your babies.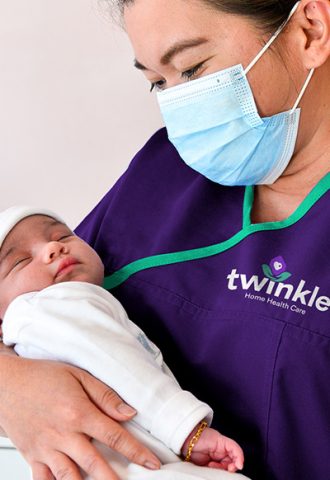 Our newborn care specialists do not administer medication to newborns; we only care for them.
We are well-versed in helping nursing mothers prepare formulas for newborns while following your feeding instructions to the letter. Our newborn nannies are skilled in providing immediate care of newborns after birth.
In all our dealings, we work hand-in-hand with the mother and family of newborns to understand their needs. We offer newborn care, including bathing, cleaning, clothing, and regularly changing diapers and clothes of newborns. We ensure that your baby wipes remain warm and dry while your baby feeding kit stays washed and drained.
You and your loved ones are at the centre of what we do. Our amazing team of nurses, midwifes and caregivers deliver tailor made packages of care ensuring the highest standards of international practices.  A team and company you can trust!
Patient/Family Centred
Care
DHA Certified
Nurses
Tailor Made
Packages
International
Standards